The Best Time to Visit Alaska
When is the best time to visit Alaska? What month is the best time to visit Alaska? These are, without doubt, some of the most frequently asked questions we get asked. It's hard to give a one fits all answer, as the best time to visit Alaska depends on your own interests of course. However, the most important question one should be aware of is the weather as it can get pretty cold in Alaska. We noted a funny quote the other day saying "What are the four seasons in Alaska? Answer: Winter, June, July, and August.
Alaska Weather
The three main factors one should consider when looking at the weather in Alaska, should be rain, temperature and the daylight hours. You can check all of the elements out by click on any of the three individual weather gauges below.
ANCHORAGE WEATHER
Rain
On average, Alaska's summers are slightly rainier than the rest of the U.S. But May is usually dry, with only a 25% chance of any measurable rain on any given day. However, Alaska gets rainier as the summer progresses. By August, the chance of rain is just over 50%.
Temperature
You'll find that Alaska's summer temperatures are surprisingly pleasant and not as many believe them to be, cool… Daytime temperatures range from 60°F (16 °C) – 80°F(27 °C). Night times are cool, dipping to around 40°F/50°F (5 °C- 10 °C). May and September can be a few degrees cooler. However, temperatures vary wildly depending on which areas you plan to visit. Winter is cold and often snow is covering the whole state. Temperatures can range from 1°F (-17°C) to -17°F (-27°C) in Fairbanks in the interior to 35°F (1°C) to 26°F (-3°C) in Juneau in the south-east.
Daylight
June 21st is the longest day of the year in Alaska, the 21st June has 19hours of daylight in Anchorage, 22hours in Fairbanks, and 18hrs in the south of the country. You will be amazed to discover how local Alaskan lifestyles change when the sun doesn't set until midnight. Just make sure to bring your sunglasses though! You can use this Alaska daylight calculator for Fairbanks and other town's and cities across Alaska to find out when the sun will set during your Alaska tour or vacation.
Summer in Alaska
Alaska is amazing at any time of the year and there are many reasons to go to Alaska during the summer or winter months. However, we find that most travellers prefer to visit during the warmer and lighter summer months when Alaska has the best weather, (mostly sunny with very little rain) no doubt the busiest time is July, with most tours operating in Alaska from mid-May through to mid-September, thereafter most tourist attractions and summer excursion operators close down.
Summer is certainly the peak season for Alaska businesses that cater for tourists, so your travel, accommodation, sightseeing and adventure options are seemingly unlimited, but they are also naturally at their most expensive, with only small if any discounts being made available to travellers. However, during this summer period, you will find warmer temperatures and more available daylight hours. Especially in July and August, which makes visiting one of 
Alaska's National Parks
and taking a tour, a must at these times of the year. Everything is open, fish are abundant and the
Bears of Katmai
and the bears at other viewing hotspots are out of hibernation and hungry.
Look around and you'll see everywhere that events – from farmers markets and fairs, fishing events and hiking trails, an abundance of animals like birds, moose, and salmon are all bursting to life. The warm weather and long daylight hours allow you to enjoy all that Alaska has to offer. All of Alaska, its residents (humans and animals) and the communities are really buzzing during the summer months.
As the summer comes to an end, Alaska typically receives some rain from around about the last few weeks of August through the beginning of September. After the first week of September, things quieten down and it can already start snowing on the higher elevations.
The Land of the Midnight Sun
Alaska is definitely the land of the midnight sun which makes scenic viewpoints and landscapes spectacular and will certainly fuel the long days of touring Alaska and soaking up all the sights worthwhile. The Alaskan sky is light nearly all night long from around late May to late July (unless you're out way, way past midnight of course).
But from early May through to September, the days are generally considerably longer. Do you fancy taking a photograph of the sunset…at 11:59 PM (23.00)? well, you can in Alaska. Why not take a trip and travel up the Dalton Highway to the Arctic Circle on a bus! A bus is not your preference then perhaps try a 'flightseeing' trip. Then take a guided late night sunset flight, high above the arctic circle, or other flightseeing adventures, you can do just that in Alaska.
The Best Time to Visit Alaska on a Cruise
Like many travel destinations, there are 'good times to go' and 'not such good times to go' but those decisions are dependant on your personal choice of course. These times are often referred to as 'seasonal'. The Alaska cruise season is five months long, starting from around May each year and stretching through to September.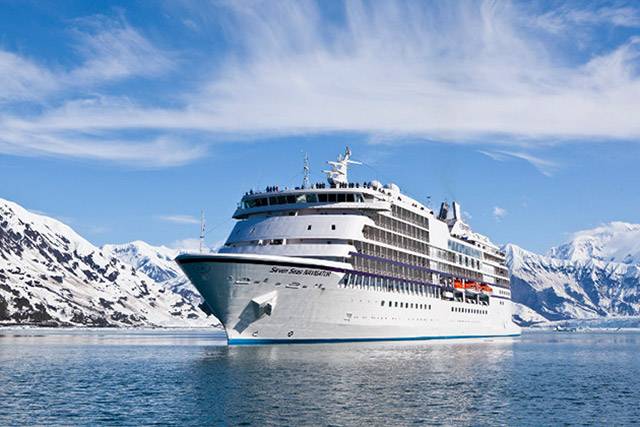 However, not all Alaska cruises are created equal, as from one week to the next, summer in the 'Last Frontier' can see noticeable differences in weather, cruise pricing and what's in season for that particular time. Whether you're looking to find some savings or spot bears, catch a king salmon or plenty of daylight, you'll have to book your cruise in Alaska accordingly.  The summer months of June, July and August being the most popular time to cruise. However, this doesn't necessarily make them the best.
Best Months for an Alaska Cruise
June, July, and August are the most popular months because they are the warmest. However, July and August also typically bring quite a lot of rain. But this isn't necessarily the bad news, as July and August also the best months for spotting wildlife and are the peak fishing months.
The months of May and September will offer many cheaper rates and are less crowded but also come with more unpredictable weather. You may find your excursions ashore will have a better chance of getting cancelled, and snow may even be on the ground.
September, however, is the best chance cruise-takers will get for a glimpse of the Northern Lights, in addition to those end-of-season bargain deals. But since the weather can be rougher, you can expect some choppy waters. So, if you get seasick, you have been warned!
Winter in Alaska
Winter in Alaska is cold, with temperatures reaching as low as 1°F (-17°C) to -17°F (-27°C) in Fairbanks located within Alaska's interior. Despite the cold, winters in Alaska are spectacular and have its own unique charm. The landscapes are just as breathtaking when they are covered in a blanket of white, bright, crisp snow. Late in the year from around November through to March, Alaska is a beautiful, winter wonderland of whiteness. 
While there are fewer travel and exploration options in Alaska during the winter months, Alaska is just as fascinating and fun as the other seasons in Alaska's calendar. Prices are lower, with fewer visitors, so availabilities on many Alaskan winter
tours
for the tourists are much better.
Winter activities
Some great winter activities in Alaska include dog sledding, if you've never gone dog sledding, you are missing out on one of the most exhilarating, fun and unique outdoor adventures to be had. Winter time is certainly chilling and thrilling but the activities continue with the visitor able to try ice fishing, winter king salmon fishing, ice climbing, snowboarding, snowshoeing and of course skiing. Anchorage and Fairbanks are some of the most popular winter ski locations. Why not try Alyeska Resort, tucked amid the Chugach Mountains on Alaska's southcentral coast, just 40 miles (65km) from Anchorage. You can check out Alyeska's winter snow report here.
Northern Lights Alaska (Aurora Borealis)
Then there are the Northern Lights, which is certainly worth a trip to Alaska to solely witness and photograph this phenomenon. The aurora light up the sky in the winter, sometimes even dance and crackle, and must be seen to be believed. The best time to see the Northern Lights since you can only see them at night, of course, is when there is the most darkness. From late August until about mid-April that's when there are, frequent displays, clear skies and generally mild weather.
For privacy reasons YouTube needs your permission to be loaded. For more details, please see our
Privacy Policy
.
I Accept
Starting at the end of August beginning of September, the Northern Lights can be seen around Fairbanks (if it is a clear night).  That's because Fairbanks is geographically under the "aurora oval," where auroras are seen most frequently. Another great place to see the Northern Lights is in the Brooks mountain range north of the arctic circle, you can book an all-inclusive, multi-day stay at Iniakuk Wilderness Lodge. This remote wilderness lodge is 200 miles (322km) north of Fairbanks and 60 miles (96km) north of the Arctic Circle. Those intrusive city lights will not be a problem here. Spend your day's dog sledding or snowshoeing, and scan the skies for aurora at night.
The Best Weather Conditions to see the Northern Lights 
If it's clear and dark enough to see stars, there's a chance you'll be able to see the aurora. If there's even partly cloudy skies? You have a chance, but it needs to be a strong aurora for you to see it. Get the aurora forecast from the UAF Geophysical Institute.
The Best Time to Visit Alaska – Conclusion
Although Alaska holds untold amounts of possibilities throughout the year for all travellers, it should be concluded that the most popular time to visit Alaska (not necessarily the best time) is during the summer months, which are typically between mid-June and mid-August.
Please read our other best time to visit blog post, they are very informative and certainly worth a read if you are thinking of holidaying or touring in those areas.
Look at the best time to visit Tanzania for your African Safari in The 'Serengeti'. For those of you who may book tours with us, you should check out our 'cookies policy' to be sure you are aware of how we treat your personal information and data.
Latest posts by Tony Sparkes
(see all)