Tony Sparkes Wildlife and Photographic Safaris
Wildlife and Photo Tours Throughout Southern Africa, South and North America.
Contact Us
Wildlife & Photo Safaris Chobe Botswana
If you are considering or planning a wildlife or photo safari to Chobe National Park Botswana, then our 'Chobe Safari' wildlife photo safari is for you. Chobe National Park is considered one of Southern Africa's best wildlife destinations, possibly in the whole of the African continent. 
Why book a safari in Chobe Botswana? There are not many places left in the world with such unspoilt natural splendour and wildlife. Chobe National Park Botswana offers the most comprehensive photographic and wildlife experience on land as well as the river in one simple and great value itinerary.
Chobe National Park
Chobe National Park is Botswana's first National Park and has one of the largest concentrations of game in Africa. By size, it is the third-largest park in the country, after the Central Kalahari Game Reserve and the Gemsbok National Park.
Chobe is located in northern Botswana near the vast, inland Okavango Delta. It's known for its large herds of Elephants and Cape Buffalo, which converge along the Chobe Riverfront in the dry months. Lions, Antelopes and Hippos inhabit the woods and lagoons around Linyanti Marsh. The floodable grasslands of the Savuti Marsh attract numerous bird species, plus migrating zebras.
 Lodge and Camp – Highlights
April 3rd – 10th                              May 8th – 15th (SOLD OUT)      June 13th – 20th 
April 6th – 13th                              May 11th – 18th (SOLD OUT)     June 19th – 26th  
April 12th – 19th                            May 17th – 24th (SOLD OUT) 
April 17th – 24th                           May 23rd – 30th (SOLD OUT) 
July 13th – 20th                            August 22nd – 29th                         
July 16th – 23rd (SOLD OUT)    August 25th – Sept 1st                                                             
Privately Guided Photo Safaris are also available
Contact us to confirm availability for this safari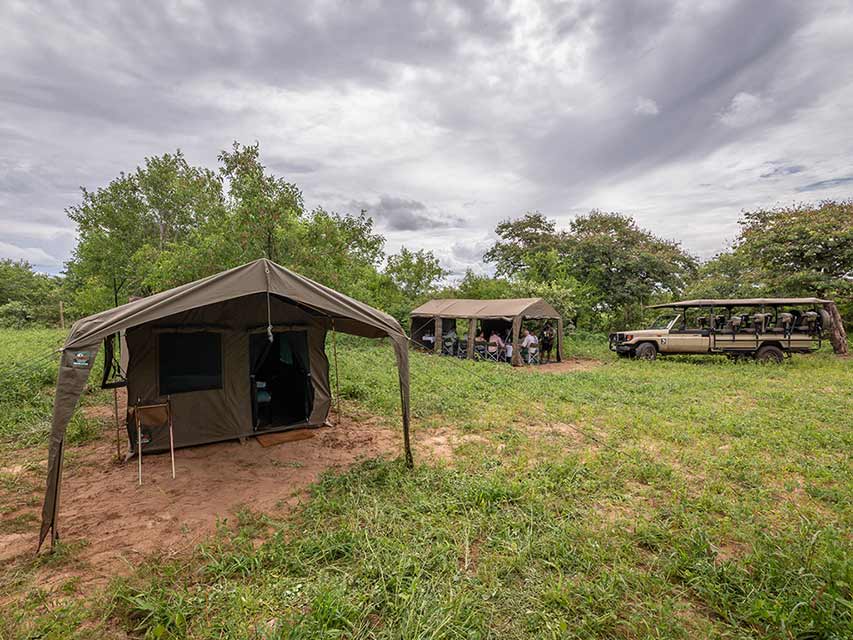 Dates: Various
Very Early Booking Recommended
Chobe Botswana – Wildlife Photo Safaris
 Please click on individual tabs below for more detailed information. 
CHOBE BOTSWANA - WILDLIFE PHOTO SAFARI
This very special safari takes place in the Chobe National Park in Northern Botswana. This Botswana safari is for travellers who want something a little different.
Bush & Boat
Guests can sample the uniqueness of a Chobe camping safari  (which is not to be missed) and enjoy taking daily photographic game drives deep in the African bush enjoying all that Chobe National Park has to offer.
As part of our tour and in contrast to our earlier daily photographic game drives in the bush, we take a different photographic and wildlife viewing perspective with our outstanding world-class twice-daily boating activities on the mighty Chobe River, the lifeblood of the area.
On this Chobe safari, guests will be treated to both daily game drives and daily riverboat activities over the period. This safari is a comprehensive Chobe photographic experience for all skill levels but also suitable for those with limited or no photo experience as tuition will be given. Of course, wildlife and nature enthusiasts, spouses and partners of photographers are also most welcome to participate as there is something for everyone.
At the End of the Day
After long days, it might be time to retire but should you still have the inclination than time spent with like-minded individuals, around our fire, recounting stories of the day and safaris past is what a trip like this is all about!
CHOBE BOTSWANA MOBILE CAMP & RIVER SAFARI
8 DAYS /7 NIGHTS
This is a 8 day/7 night wildlife photo safari staying in Kasane and Chobe National Park in northern Botswana.
THE CAMP
Our hosts make use of private campsites deep in the Botswana bush reserved exclusively for the mobile camp. There are five large walk-in tents sleeping a maximum of eight guests (room for a couple of singles) with a dining tent that doubles as an editing area.
Each of the tents has normal twin beds with quality linen and a private en-suite bathroom. The bathroom comprises of a toilet, basin and a 'bucket' shower that can be filled to the brim with warm water straight from the campfire when needed. Maybe we should call this 'glamping' not camping!
The animals of Chobe are generally very relaxed, which is one of the main reason why photography is so good there, you will often have herds of herbivores like elephants, zebra and buffalo wandering past the camp during the day.
THE LODGE
Our luxury lodge in Kasane sits on a plateau overlooking the Chobe River and the Caprivi floodplains below. The lodge has 14 rooms and is designed around a wildlife photography gallery featuring inspiring images from Africa and beyond. With its proximity to the Chobe river, the majority of the game activities are done on customised photo boats.
DAY 1 – 4 ITINERARY
From the set-off point, the safari starts with a leisurely game drive through the Chobe National Park to the mobile camp based in the North-Western sector of the park. The custom 8-seater (everyone has a window seat) Landcruiser will be used throughout our time in the bush.
A DAY'S TYPICAL CAMP ITINERARY
Early morning call at around 5:00 am each day
Set off for the mornings game drive at about 6:00 am.  Coffee/Tea and rusks will be served before departure.
After the mornings game drive at around 10 am, it will be time to head back to the camp for breakfast.  Between the game drives, photographers and non-photographers have time to relax at the camp or process the images with our specialist photographic guide in the comfort of the editing photographic tent, aka the dining tent.
Prepare for the afternoon game drive which departs at approximately 3:30 pm - 6:00 pm.  Return to the camp and freshen up for dinner, which is served at around 7 pm.
Meals
The chefs are masters at producing delicious meals from the nearby bush kitchen and the support vehicle has enough cold storage to make sure the drinks are always chilled.
Discuss over dinner your sightings and the photographs taken from the morning & afternoons game drives.  After dinner guests can relax and enjoy a drink under the African skies, listen to the sounds of the 'bush' and prepare for the following days game drive.
On the fourth day in the camp, time to pack up the vehicles and head East towards the luxury lodge in Kasane.
DAY 4 – 6 ITINERARY
By day 4 we are sure you will have improved your photography skills and will be feeling confident shooting with 'manual' camera settings. This will allow you much more creative control over your images and make the most of the photo opportunities that present themselves.
With many photographic opportunities, it will allow us to spend more time on the boats perfecting various photo techniques or for those none photographers, enjoying spectacular game viewing from the river.
In a similar format to the days itinerary of the bush camp, will undertake twice-daily game activities on the river and also one or two game drives on a very productive part of the Chobe that we could not get to from the mobile camp.
In between the activities you can relax at the eco-pool or make use of the air-conditioned editing room at the end of the photo gallery. 
DAY 7 ITINERARY
After early morning wildlife photography, take the two hour journey to spend time photographing the spectacular Victoria Falls in Zimbabwe.  The tour includes lunch.
DAY 8 ITINERARY
On the last day there is till time for some dawn photography before checkout.
COMPUTERS
Access to computers is limited in the Lodge so we suggest that you perhaps bring a 'laptop' with you for image review sessions. Otherwise, we will give you plenty of memory cards to fill throughout the safari to take your images home with you.
MEALS AT THE LODGE
Breakfast
In the mornings, before the boat cruise/ game drive, a light breakfast is set up with tea, filter coffee, juices, cereals and toast. While on the river activities we stop for another tea/coffee break and a rusk (Type of biscuit)
Brunch
When we return in the mid-morning a hearty brunch is served with variations each day and eggs cooked to order. This is generally enough to see you through to dinner but just in case its not a high tea with sweet and savoury offerings are served just before that afternoon activity along with liquid refreshments.
Dinner
Meals are taken as often as possible out on the deck or the inter-leading dining room with the fabulous chefs dishing out wholesome meals with locally sourced ingredients wherever possible.
The evening meals vary from Braai (Barbeque) Nights to gourmet pizzas cooked in a wood-fired oven. Most dietary needs can, however, be catered for and should be made known to us at the time of booking.
Relax and be social with a cocktail
The lodges bar on the upper floor has spectacular views and the best cocktails in Kasane is a great place to relax after dinner with your fellow travellers. Alternatively, the sunken fire pit is always a hit!
We can cater for the majority of dietary requirements. Please advise us at the time of booking.
CHECK OUT DAY
On the final day, we will either transfer you to the airport if you are heading home or we can arrange extensions to any other of our custom options.
BOTSWANA IN FOCUS (10 days)
This is a hosted safari and is only available in June, July and August each year and incorporates 'The Best Chobe' along with three nights in the world-famous Okavango Delta. Please contact us for more details.
COSTS & INCLUSIONS/EXCLUSIONS FOR THIS CHOBE SAFARI
This photo safari will run with a minimum of 2 guests and a maximum of 6 guests. 
Safari Costs : From US$ 3,700 pp sharing
Prices are in ($) US Dollars, the exact price will be confirmed via invoice at the time of booking.
We can accept payment via International SWIFT transfer, Credit Card or Paypal.
Please be advised:  This wildlife photo safari will run throughout 2021 with set departures from April through to September.  See set departure dates available above.  Please contact us for any single supplement requirements and to check with us to confirm availability.
WHAT IS INCLUDED
3 Nights Mobile Bushcamp
4 Nights Luxury Lodge in Kasane
2 x Daily Game Activities
Day Trip to Vic Falls (Inc Lunch) (Optional)
Photo Tuition (Host)
Camera's, Lenses and Memory Cards
All Meals & Drinks
Airport Transfers To & From Kasane (If Required)
Park Fees & Tourism Levies
WHAT IS NOT INCLUDED
Any Flights
Visas if required
Gratuities (Please allow between $US 5-10 a day or rand equivalent for the driver and the tracker) if you wish to give anything. This should be paid in cash.
Purchases of a Personal Nature
Laundry
Telephone calls
BOTSWANA
Botswana, is a landlocked country in Southern Africa, with a landscape defined by the Kalahari Desert and the Okavango Delta, which becomes a lush animal habitat during the seasonal floods. The massive Central Kalahari Game Reserve, with its fossilized river valleys and undulating grasslands, is home to numerous animals. Learn more about Botswana
GENERAL INFORMATION
CHOBE NATIONAL PARK - BOTSWANA
Chobe National Park in the north of beautiful Botswana is home to Africa's largest elephant population as many as 120,000 plus. Chobe National Park comprises more than 10,000km2 of rich ecosystems, diverse landscapes and an almost unparalleled abundance of wildlife and birdlife all centred around the stunning Chobe River.
Elephants and many animals depend on the Chobe Rivers life-sustaining waterways as the dry season kicks in between April - October each year. Nowhere else on Earth has more of these remarkable giants, many travel from neighbouring countries to this, the Elephant Capital of Africa the might Chobe.
Of course, they're not alone. Iconic African big game species such as the Cape Buffalo, Zebra and Wildebeest swirl around the 11,700km2 park. In tandem with the giant's, those other iconic African safari animals the big cats, Lion, Leopard and Cheetah with Spotted Hyena being common. Wild Dog can be seen but less so, while Hippo, Nile Crocodiles and water-loving antelope like the Red Lechwe and occasionally Puku, call the Chobe National Park home. Look up above and on the river, one will find the skies alive with some 450 bird species.
For many, the focal point of this famous park is the flashing blue Chobe River itself. It's described as one of Africa's most beautiful rivers, winking at the world through its fringes of Jackalberry and Ana trees.
The sheer beauty and diversity of Chobe National Park make this park one of the most accessible game-watching destinations in Africa.
OTHER GENERAL SAFARI INFORMATION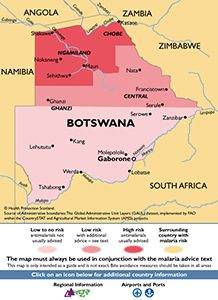 It should be noted that Chobe National Park is located within a high-risk Malaria area, guests are advised to seek medical advice from your own doctor in this respect.
Please read our Safari Safety and Etiquette to ensure you have an enjoyable and trouble-free safari experience with us.
There is wifi access and mobile phone reception at the lodge in Kasane.
WHAT TO BRING ON SAFARI
Mornings and evenings in an open safari vehicle are cold to cool (even in the summer), bring a fleece and a windbreaker jacket
Rain jacket, hat, cap or beanie
Sunblock
Binoculars
Spare batteries for your camera
Torch
Camera/video camera & flash
LENS RECOMMENDATIONS
Due to the diversity of the environment, it is recommended lenses covering the following focal length: Wide-angle 15mm – Telephoto up to 600mm
Recommended:
Wide-angle 15 – 30mm / 24mm - 70mm
Mid-range telephoto 70mm – 200mm
Long telephoto 400mm – 600mm
To ensure all guests who book travel destinations through us have a memorable experience we ask you to read and fully understand our Payment Terms and Conditions, Copyright & Disclaimer and Privacy Policy.   If you have any questions or queries please do not hesitate to contact us
If wildlife photography is not for you but you still want the excitement to see and experience Africa's Big 5 and a plethora of birds and mammals on a game drives in the African bush, then why not look at our following tours and safaris:-
Hoyo Hoyo
Uganda Gorilla Trekking
Hamiltons Tented Camp
Sabi Sand Photo Safari
Kruger Birding and Wildlife Photo Safari
Kruger Park Safaris
PS: Don't forget to catch up with our Safari Buddies Blog, read interesting posts about our nature and wildlife tours. Have you read our post on What is Eco-Tourism or Bird Migration – (Part 1) to Southern Africa? Why not subscribe to our monthly journal  Safari Buddies where you can be sure you are first to receive into your inbox all our latest tour and safari news, new tour destinations, discounts, photography tips and tricks and travel news.
Chobe National Park – Wildlife Safari Video's
Photo Gallery – Chobe Botswana Safari
Latest posts by Tony Sparkes
(see all)